Premise:
In the era of online retail, what would traditional brick and mortar store owners be thinking? Is the "go digital or perish" mantra on point? While it's important that such stores need to get rid of many of the ways in which they were doing business earlier, with the right strategy and tools, they could not only avoid obsolescence but take their games to entirely new levels. Crucial to this strategy are increasingly powerful Point of Sale (POS) systems.
Now the retail industry is no stranger to POS terminals in various shapes and forms. They have been providing the basic inventory management and payment facilities for a long time. However, what has changed in recent times is the increasingly new functionalities being integrated in them which have the potential to revolutionise the experience a customer would get upon walking in. As a result, several stores are reaping the following benefits and driving customer loyalty:
Payments made easy with stores using POS systems linked to tablets, allowing employees to process transactions from anywhere on the floor

Shorter checkout queues

AR-enabled trial rooms which enable customers to try on garments without actually wearing them

Heat mapping, which enables retailers to understand store traffic patterns and lay out spaces better
Technology Landscape and Adoption:
According to Forrester, about 23% business leaders of retail and wholesale firms believe that the application of Artificial Intelligence can improve operational efficiency. Additionally, the global market for POS systems is poised to grow by 15.8% and reach a value of $28,270 Million by 2025.
Source: Adroit Market Research
Apart from AI, the Internet of Things is powering retail towards its new-age features and benefits. A detailed study by PwC reveals that the retail sector has the highest percentage of companies (58%) working on active IoT projects, with another 30% with IoT solutions at a research and development phase. The main areas of focus for these companies are expanding businesses and augmenting existing systems with smart capabilities: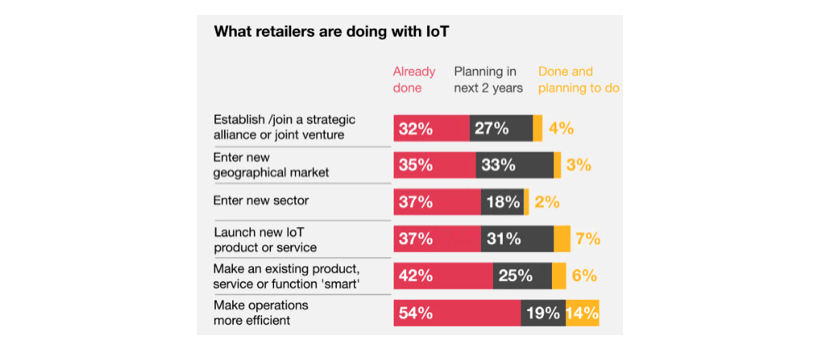 The key elements of a modern POS system then is to harness the power of technology and equip the retail industry with a digital arsenal for solving problems. As enterprises reached out to us with their requirements, our answer was to put everything we have learned from the retail space together to figure out the immediate worries that brick and mortar stores need to address and what they will need to get ahead of the competition in the years to come. Out of this knowledge and research was created a POS system that will help retailers sell smart.
The Glider Advantage:
One of our earliest clients was a company which was having trouble with getting the best visibility for their best products and offers. Arranging merchandise in a way that places the items they want maximum eyes on along the ways most customers take, was the answer and it was promptly provided by Glider's effective heat mapping capabilities which analysed footfalls and provided an accurate picture of customer traffic inside the store. Revised layouts following the report enabled the store to increase their sales significantly and also helped customers see the offers they were providing.
Know Your Customers:
The other important aspect of technologically advanced POS systems is the data they generate. Stores are also offering companion mobile apps which allow customers to check out products, offers and the ability to place orders. A smooth synchronisation between such mobile apps and POS systems of the same stores generate a good volume of useful data that can be analysed to understand various customer behaviors and needs such as:
Choice of products filtered by age, gender, time of shopping and so on

Most popular offers

Most wishlisted products

Popular brands

Data on customer journeys, helping companies identify issues and release updates to improve customer experience
Conclusion:
Retailers must invest with care in a market that's teeming with digitally aware competitors. Aspects such as personalization, analytics, omnichannel, digital store capabilities and the integration of technology such as AI, AR, IoT and others are where maximum research and innovation is being carried out and POS systems are at the core of it. As the head of business in the retail segment, the key is to identify in what ways technology can get you where you want to be, what more do you want to know about your customers and in which areas are you falling behind those you consider competition. The right tools to give you the information you need and the right digital partner who would keep improving those tools and enable you to sell smarter, would be your steps to success.